New & Improved Complete!
NEWF Warrior Mix is changing to "Complete" a New & Improved formula! We have heard your feedback and we are now proud to introduce Complete.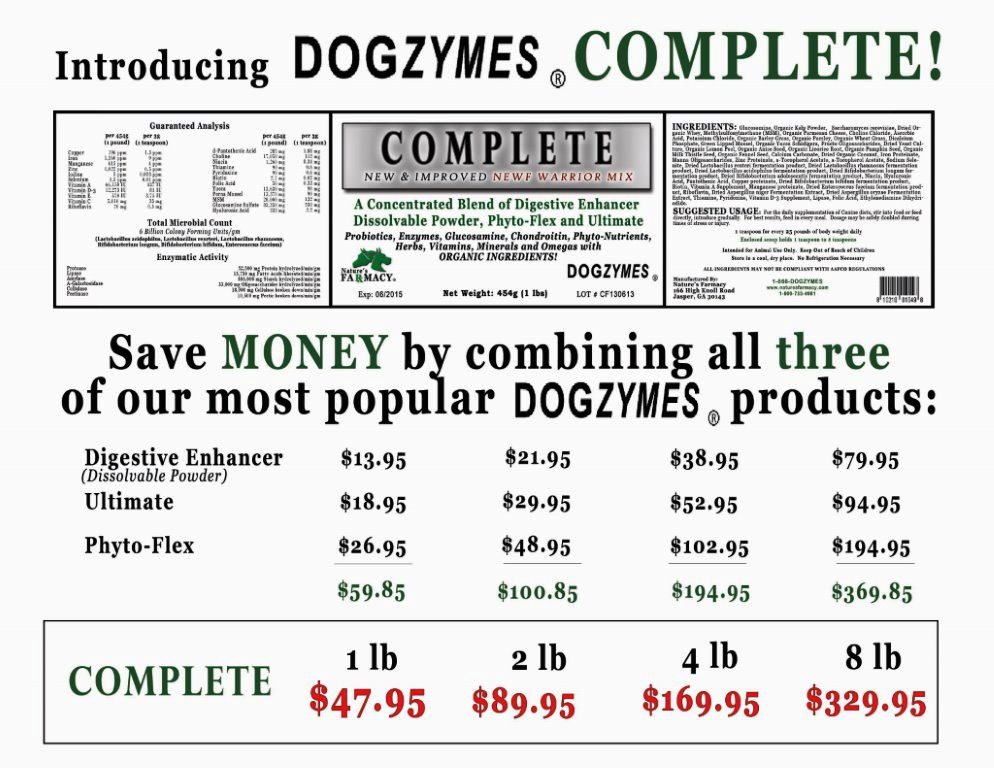 New Dogzymes Complete is here! Save MONEY by combining all THREE of our most popular Dogzymes products: Digestive Enhancer (Dissolvable Powder), Ultimate, and Phyto-Flex. Available in 4 sizes.
Get the benefits of three products in one container, only one serving to dose out at feeding time!
Ingredients: Glucosamine, Organic Kelp Powder, Saccharomycees cerevisiae, Dried Organic Whey, Methylsulfonylmethane (MSM), Organic Parmesan Cheese, Choline Chloride, Ascorbic Acid, Potassium Chloride, Organic Barley Grass, Organic Parsley, Organic Wheat Grass, Dicalcium Phosphate, Green Lipped Mussel, Organic Yucca Schidigera, Fructo Oligosaccharides, Organic Dried Yeast Culture, Organic Lemon Peel Powder, Organic Anise Seed Powder, Organic Licorice Root Powder, Organic Pumpkin Seed Powder, Organic Milk Thistle Seed Powder, Organic Fennel Seed Powder, Calcium Carbonate, Dried Organic Coconut, Iron Proteinate, Manna Oligosaccharides, Zinc Proteinate, a-Tocopherol Acetate, Sodium Selenite, Dried Lactobacillus reuteri fermentation product, Dried Lactobacillus rhamnosus fermentation product, Dried Lactobacillus acidophilus fermentation product, Dried Bifidobacterium longum fermentation product, Dried Bifidobacterium adolescentis fermentation product, Niacin, Hyaluronic Acid, Pantothenic Acid, Copper proteinate, Dried Bifidobacterium bifidum fermentation product, Biotin, Vitamin A Supplement, Manganese proteinate, Dried Enterococcus faecium fermentation product, Riboflavin, Dried Aspergillus niger Fermentation Extract, Dried Aspergillus oryzae Fermentation Extract , Thiamine, Pyridoxine, Vitamin D3 Supplement, Folic Acid, Ethylenediamine Dihydriodide.
Total Microbial Count
6 Billion Colony Forming Units/gm
(Lactobacillus acidophilus, Lactobacillus reuteri, Lactobacillus rhamnosus, Bifidobacterium longum, Bifidobacterium bifidum, Enterococcus faecium)
Enzymatic Activity
Protease……………………………..52,500 g Protein hydrolyzed/min/gm
Lipase………………………………..15,750 g Fatty Acids liberated/min/gm
Amylase……………………..………..336,000 g Starch Hydrolyzed/min/gm
A-Galactosidase……..33,000 g Oligosaccharides hydrolyzed/min/gm
Cellulase……………………….…18,000 g Cellulose broken down/min/gm
Pectinase……………………….……10,500 g Pectic broken down/min/gm
Guaranteed Analysis Per Pound (454 g)
Copper…………………………………………………………………196 ppm
Iron…………………………………………………………………...1360 ppm
Manganese…………………………………………………………..615 ppm
Zinc……………………………………………………………………1,022 ppm
Iodine…………………………………………………………………….5 ppm
Selenium…………………………………………………………….1.50 ppm
Vitamin A……………………………………………………………. 66,150 IU
Vitamin D-3……………………………………………………………. 12,273 IU
Vitamin E………………………………………………………….… 570 IU
Vitamin C…………………………………………………………… 5,010 mg
Riboflavin………………………………………………………………..70 mg
d-Pantothenic Acid………………………………………………….285 mg
Choline…………………………………………………………….... 17,050 mg
Niacin……………………………………………………………………1,260 mg
Thiamine…………………………………………………………………..90 mg
Pyridoxine…………………………………………………………………90 mg
Biotin……………………………………………………………………….2.7 mg
Folic Acid…………………………………………………………………..50 mg
Yucca……………………………………………………………………...13,630 mg
Green Lipped Mussel ………………………………………..……13,370 mg
MSM……………………………………………………………………..20,000 mg
Glucosamine Sulfate……………………………………………..83,350 mg
Hyaluronic Acid………………………………………………………….333 mg
Guaranteed Analysis Per 3 gram Dose
Copper…………………………………………………………………1.3 ppm
Iron…………………………………………………………………...9 ppm
Manganese…………………………………………………………..4 ppm
Zinc……………………………………………………………………6.75 ppm
Iodine…………………………………………………………………….0.033 ppm
Selenium…………………………………………………………….0.01 ppm
Vitamin A……………………………………………………………. 437 IU
Vitamin D-3……………………………………………………………. 81 IU
Vitamin E………………………………………………………….… 3.75 IU
Vitamin C…………………………………………………………… 33 mg
Riboflavin………………………………………………………………0.5 mg
d-Pantothenic Acid………………………………………………….1.88 mg
Choline…………………………………………………………….... 112 mg
Niacin……………………………………………………………………8.34 mg
Thiamine…………………………………………………………………..0.6 mg
Pyridoxine…………………………………………………………………0.6 mg
Biotin……………………………………………………………………….0.02 mg
Folic
Acid…………………………………………………………………..0.33 mg
Yucca……………………………………………………………………...90 mg
Green Lipped Mussel ………………………………………..……90 mg
MSM……………………………………………………………………..132 mg
Glucosamine Sulfate……………………………………………..550 mg
Hyaluronic Acid………………………………………………………….2.2 mg